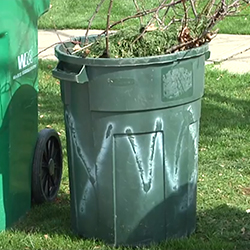 Yard waste collection in the City of Mentor runs through the second week of December. If you have additional yard waste, it can be dropped off at the following locations. Please be sure to call these businesses ahead of time regarding delivery times, bundling/delivery requirements, costs, or other questions.
Arcola Creek Nursery
2452 Dock Road, Madison, OH 440-428-7497
Leaves loose or in paper bags. Drop off by big white barn. Daylight hours only.
Brotzman Nursery
6899 Chapel Road, Madison, OH 440-428-3361
Leaves only. Drop off close to the road. Easy to find. Daylight hours only.
Klyn Nursery
3322 State Route 84, Perry, OH  440-259-3811
Leaves only. Back into the pile, empty all bags and take them with you. Daylight hours only Monday – Friday.
MRLM
6011 Heisley Road, Mentor, OH  440-352-1900
Will accept various materials including leaves, brush, etc. There is a cost.
Several local companies will provide curbside leaf yard collection and yard waste hauling for a fee.
All M Landscaping Company  440-840-1115
ASAP Services  440-392-4542   dpsheils@gmail.com
Baffa Landscaping Design, LLC  ninotbaffa@gmail.com
Landscape Ohio L.L.C.  440-942-7017  landscapeohio@aol.com
Parks Tree  440-953-8733  sales@parkstree.net
P&R Lawn Maintenance & Snow Plowing Company  440-867-8923  trishul0696@yahoo.com
J and M Family Landscaping  216-254-2029  jandmfamilylandscaping@gmail.com
This information is provided as a convenience to our residents. These are independent businesses and the City does not guarantee or endorse services or availability as they may change without notice. Residents are encouraged to perform due diligence in dealing with these companies as they would with any private contractor.
Learn more about our waste removal and recycling programs.
This article has been updated on 12/6/19 to add a list of companies which provide yard waste collection and disposal services.