City Ordinance Summary
The following items are a summary of the most common ordinances and programs referenced by our residents.
Animals
No more than three dogs over the age of four months are permitted per household in residential districts. Dogs should be leashed at all times when outside, and owners must not permit their dog to bark or howl to the extent that it disturbs the peace. All dogs must wear valid license tags issued by the County. When a vicious dog is confined outside, it must be securely enclosed in a locked pen or dog run with secure sides and top. No wild or exotic animals may be kept in the city. Owners of both dogs and cats are responsible for picking up after their pets, both on public and private property. Hunting is prohibited within city limits.
Bicycles
Licenses and registration are available for all bicycles operated within Mentor. Permits can be obtained from the Mentor Police Department. When riding on a road, cyclists must follow traffic signals and laws, and ride with traffic. Bike paths are provided for pedestrians and bicyclists. Bike lanes are exclusively for bicycles, unless there is no sidewalk or shoulder. Mentor is one of only two Bicycle Friendly Communities in the Greater Cleveland Area.
Building Permits
Building Permits are required for all construction including decks, pools, sheds (greater than 200 square feet), porches, enclosures, etc. Permits are obtained through the Engineering & Building Department. Applicants for accessory-type structures need to provide two copies of the construction drawings consisting of a site plan showing where the structure will be situated on the property and the distance from all property lines. Plans must also show how the structure will be built, materials used, etc. Once submitted, the plan review procedure takes about five working days (permits for sheds, 200 square feet and less, built from a kit can be obtained at the time of submission) as a Zoning Permit. A permit fee is charged, along with a refundable construction deposit, which can be returned if the structure passes all inspections.
Cars for Sale
Vehicles for sale in the residential zone must be titled to the current resident, and be properly licensed, operable, displayed for a maximum of two weeks and parked on an improved parking surface (not the lawn). The number of vehicles for sale is limited to two per year.
Curfew
The curfew restricts persons under 12 years of age from being out from 9:30 p.m. to 5 a.m.; children 12 to 16 years of age from 11 p.m. to 5 a.m., and 16 to 18 year-olds from midnight to 5 a.m. A daytime curfew also restricts school-aged children from being out of school during regularly scheduled school hours, unless accompanied by a parent or legal guardian, or if the child has an authorized written excuse.
Dead Animals / Roadkill
If dead animals are observed on city roadways, contact the Maintenance Facility at (440) 974-5781 weekdays, 7 a.m. to 4 p.m; call the Police Department at (440) 255-1234 at all other times.
Drainage Ditches
All premises shall be graded and maintained to prevent the accumulation of stagnant water. No owner or occupant of any premises shall cause or permit any natural watercourse, drainage ditch, creek, brook, culvert, or drain located upon the premises to become obstructed with leaves or other debris so that water flow is hindered. Call (440) 974-5785 with drainage questions.
Fences
A permit is required if you are planning on installing, altering or relocating a fence. Fences in the rear yard may not exceed six feet in height. Fences in the front yard or on a corner facing a side street may not exceed three feet in height and must be decorative.
Fireworks
It is against the law to possess, discharge, or sell fireworks (combustibles) in the City of Mentor. A combustible is anything that can be ignited with a match or lighter. This includes sparklers, which can burn at temperatures up to 1,800 degrees. For more information on fireworks safety, download this Fireworks Fact Sheet.
Garage & Yard Sales
A permit is not required for a garage sale, however, there shall be no more than three sales permitted per property in a given calendar year. No sale can extend for more than four consecutive days. Hours for a yard or garage sale are limited to 9 AM to 7 PM. Signs promoting the sale are permitted only on the property where the sale is being held; signs may not be posted at any street corner, or on tree lawns, or utility poles. Illegally posted signs will be confiscated without notice. Contact Code Enforcement at (440) 974-5792 with questions.
Garbage & Recycling
The City of Mentor contracts with Waste Management for a citywide collection service for all single family homes on public streets. Residents are billed quarterly, however, the rates are subsidized by the city. This service also includes the weekly collection of bulk items and yard waste, and recycling on an every other week basis. Call Waste Management at (800) 989-9278 to arrange for service.
Grass and Weed Control
Lawns and landscaping should be maintained so as not to cause a negative effect on the neighborhood. Generally, grass in residential neighborhoods must be controlled in height or growth (under 8″). Weeds such as goldenrod, ragweed, thistle, etc. that are capable of causing skin reactions and respiratory problems, are not permitted to grow on any premises. No owner or occupant of any premises shall permit vegetation to create a safety hazard. Property owners with excessively high grass or weeds will be given 48 hours from receipt of notice to cut or destroy the high grass or weeds. If the notice is ignored, a City crew will cut the grass at the owner's expense. Call (440) 974-5740 with questions.
Home Occupations
Any business operation conducted out of a residence requires a permit. There are two types of permits – one is administratively approved, the other type must be reviewed by the Municipal Planning Commission. Call (440) 974-5740 with questions.
House Numbers
House numbers must be displayed in a conspicuous location for efficient police, fire and postal services. Numbers no less than four inches tall are to be displayed on houses less than 61 feet from the road right-of-way. Numbers at least six inches tall are to be displayed on houses located between 61 feet to 100 feet from the road right-of-way.
Income Tax
All persons earning income in the City, and businesses and residents having taxable, or earned income, are subject to a 2% Municipal Income Tax. Mentor residents are granted 100% credit for municipal income tax paid to other communities up to 2%. Residents owing tax, other than tax withheld, must make quarterly tax payments and file an annual municipal income tax return. All forms, payments, and questions should be directed to the Regional Income Tax Agency (RITA) by calling 800-860-RITA (7482). Download municipal income tax forms at www.ritaohio.com. RITA also maintains an office adjacent to the Finance Department at Mentor City Hall. Regular office hours are Tuesday and Thursday from 8 – Noon and 1 to 5 p.m. No appointment is necessary.
Jogging
Joggers are encouraged to pursue their recreational activity of choice in a safe and responsible manner, and to follow these rules:
Jogging upon a roadway is illegal, if an accessible, adjacent sidewalk is provided.
Where a sidewalk is not provided, jog only on the shoulder of the roadway, as far as possible from the edge of the roadway.
Where neither a sidewalk nor a shoulder is available, jog as near as possible to the outside edge of the road; if a two-way road, jog ONLY on the left side.
Any joggers on a roadway shall yield the right of way to ALL vehicles.
Light Trespass
High Intensity Density (HID) lighting must have full cut-off fixtures or be shielded to prevent trespass or glare. All spot or flood lighting must be shielded or aimed to prevent light trespass.
Mosquito Control
The Lake County Health District oversees mosquito control in the city. Spraying schedules are posted on The Mentor Channel 12. If you have concerns about the spraying, call the Health District at (440) 350-2543.
Noise
No person shall unreasonably create a noise disturbance within the city. Any noise that annoys or disturbs a reasonable person, or causes adverse affects on humans is prohibited before 7 a.m. or after 9 p.m. weekdays, and before 8:30 a.m. on Saturday and Sunday. Call the Police Department's non-emergency number (440) 255-1234.
Open Burning
Burning trash, brush, or leaves is not permitted in the City of Mentor. Small, attended campfires for cooking purposes are permitted during favorable weather conditions without prior approval. Bonfires require prior approval of the Fire Prevention Bureau by calling (440) 974-5768. Click here for Bonfire & Recreational fire rules.
Parking
Motor Vehicles
In residential districts, motor vehicles must be parked on an improved surface. Improved surfaces are those constructed of concrete, asphalt or permeable pavers, without excess weeds or grass.
RV's, Boats and Trailers
RV's, boats and trailers of any kind may not be parked in front of the main structure. A minimum three-foot set back is required from side property lines. On corner lots, no RV, boat or trailer parking is permitted between the right-of-way and side of the main structure. Parking must be on an improved surface of concrete, asphalt or permeable pavers and a permit is required for any type of driveway construction or expansion.
Commercial Vehicles
No more than one commercial vehicle per dwelling unit may be parked on a residential property. No vehicle having a net total weight of greater than 10,000# shall be parked on a residential property. Parking must be on an improved surface of concrete, asphalt or permeable pavers. No construction equipment or vehicle (including, but not limited to backhoes, bulldozers, trenchers) shall be parked in residential districts for more than 30 days.
Parking on City Streets
Parking is prohibited between the hours of 2 to 6 a.m. and on the fire hydrant side of the street.
Property Maintenance
Property owners are required to maintain the exterior of their premises so that its appearance does not negatively impact the immediate neighborhood. Residential rental properties must be inspected every two years. If you are renting an apartment or house, and you feel the property is not properly maintained, call Mentor's Code Enforcement Office at 974-5740.
Refuse Collection (Commercial & Industrial)
Any commercial or industrial rubbish hauler collecting in the City of Mentor is required to obtain a contractor's license and vehicle permit.
Sidewalks and Driveways
All sidewalks and driveways within the public right-of-way shall be kept in a proper state of repair. If they pose a possible danger to public health and safety, they shall be repaired or replaced. The city can provide the name of a licensed contractor, however, the cost is paid by the resident. An annual sidewalk inspection and maintenance program is expected to begin in 2012. The owner, occupant or other persons having charge, management or possession of any building or premises shall keep the sidewalk(s) adjacent to such building or premises in a clean condition at all times. This includes clearing the property's sidewalks of snow and ice (Ordinance 521.06).
Signs
"Home For Sale" signs are permitted only on the actual property that is for sale and only when posted behind the tree lawn. Off-premises "Open House," "For Sale," "For Sale by Owner," real estate, and garage sale signs are not permitted and will be confiscated, without prior notice, when observed by city staff.
Snow and Ice Control
Clearing of City Streets
Arterial and major collector streets are given first priority for snow and ice control to insure emergency accessibility. All major intersections on the major arterial highway system are salted along with certain hills and bridges. Residential neighborhoods are cleared when conditions warrant. Call (440) 974-5781 with routine snow and ice control inquiries.
No Parking During Snow Emergency
A Snow Emergency is defined as that time when there has been an accumulation of snow, sleet, hail, or ice on any streets or roads. No parking is permitted on any city street during a Snow Emergency. Snow Emergency alerts are posted on The Mentor Channel, Mentor Radio 1620 AM as well as Social Media.
Depositing Snow & Ice on Public Sidewalks or Roadways
Depositing snow or ice onto any public sidewalk, street, road, or highway is not permitted.
Access to Fire Hydrants
Residents and business owners are urged to assist the Fire Department by keeping clear access to their fire hydrants during heavy snowfalls.
Solicitation
It is unlawful to solicit within the city without first obtaining a solicitor's permit from the Police Department. Those who have obtained a solicitor's permit may solicit within the City of Mentor between the hours of 9:00 a.m. and 7:00 p.m.
It is unlawful to solicit at any premise at which a "No Solicitors" sign is displayed. "No Solicitors" signs are available at the Mentor Police Department or from the receptionist desk at City Hall.
Streetlights
Streetlights within the City of Mentor are paid for through assessment of those benefiting property owners. If you observe a streetlight in need of repair, call the Public Works Department at (440) 974-5780.
Traffic Signals/Signs
Traffic signals and signs are installed and maintained by the Public Works Department. For service requests, including repair or replacement of these devices, call (440) 974-5781. Emergency or weekend repairs should be reported to the Police Department at (440) 255-1234.
Trees on Right-of-Way/Treelawn
Dead Trees
Property owners are required to maintain trees within the public right-of-way, or treelawn area. Trees must be trimmed so that pedestrians and motorists can pass without obstruction. Branches that hang over the sidewalk should be kept at seven feet about the sidewalk, and 14 feet above the roadway. Branches also should not interfere with visibility of street or traffic signs.
Planting & Removing of Trees
The City of Mentor has specific ordinances that property owners must follow when trimming, removing and planting trees located in the right-of-way or on the treelawn. Call the Public Works Department at 974-5780.
Yard Waste Collection
The City of Mentor provides for the weekly, curbside collection of yard waste materials for all single-family homes. The program generally operates from the beginning of April through the end of December. Contact Public Works at (440) 974-5781 or pubworks@cityofmentor.com for specific dates. Yard waste is defined as leaves, grass clippings, garden waste and smaller tree branches. Brush should be stacked next to the roadway in bundled four-foot lengths. Leaves must be bagged in Kraft paper leaf disposal bags, or placed in rigid, reusable containers. This program does not provide for the clearing of lots, removal of complete trees, or as a service to businesses. Residents can set out 12 units a week on their regular trash day. The limit increases to 25 units beginning the last full week of October to allow for fall clean-up.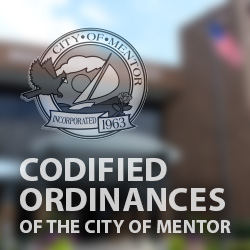 Disclaimer: Notice to Online Users
This online version of the Codified Ordinances of the City of Mentor, related legislation, and regulations is not the official version. The only officially published version is available by calling the office of the Clerk of Council at (440) 974-5755. This online version may, occasionally, differ from the official version and should be relied upon for general information purposes only.
TECHNICAL SUPPORT
If you require technical support, call 1-800-445-5588 or email techsupport@amlegal.com.