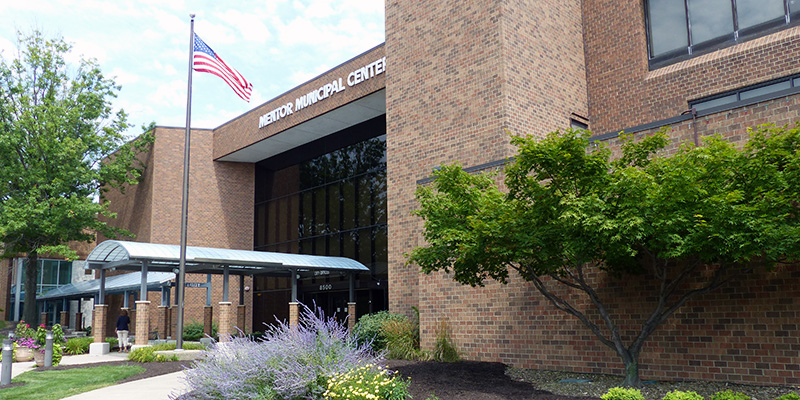 The City of Mentor employs over 500 individuals in full and part-time positions. We offer competitive salaries and a comprehensive benefits program for full-time employees.  EOE/ADA
FULL-TIME POSITIONS AVAILABLE
POLICE OFFICER
DOWNLOAD ENTRANCE INFORMATION PACKET & APPLICATION 
https://cityofmentor.com/wp-content/uploads/PO-Entrance-Job-Packet-070120.pdf
The City of Mentor Civil Service Commission will be accepting applications for a Written Exam to establish an Eligibility List for the position of Full-time Police Officer. Salary range is $58,968.26 to $82,717.96. Must be a US Citizen or in the process of becoming a citizen, at least 20-years old at time of application and at least 21-years old at time of appointment/hire (no person is eligible to receive an original appointment on or after the person's 36th birthday). Must have a valid driver's license and be a high school graduate (or GED equivalent).
Applicants who receive a passing grade of 70% on the Written Exam will earn 2 additional points for each of the following, if copies of proper documentation are provided:
Applicants who have successfully completed a Police Academy and currently hold a valid Ohio Police Certification (not more than 12-months old) as defined by the OPOTC. Recently graduated students may submit a copy of a valid letter of completion (not more than 12-months old) with signatures from the State of Ohio as proof. Current officers may submit a copy of their Officer ID;
Applicants who have proof of Honorable Discharge (DD214, pg. 2 or Member Copy 4 with signatures), or a Letter of Proof signed by a Commanding Officer stating, "Current Active Duty Service in Good Standing"; and,
Applicants with an Associate Degree or higher from an accredited university, or who have accumulated 60 or more class credit hours equal to at least two complete years AND are currently enrolled in pursuit of a 4-year degree at an accredited university as defined by the U.S. Dept. of Education.
Applicant must participate in a Written Exam, Tri-C Physical Agility Test*, Polygraph, Background Investigation, Medical Exam, Psychological Test and Oral Interview. To be processed for possible appointment, applicant must have a valid Tri-C physical agility certification (not more than 12-months old), which is at applicant's own expense.
The mandatory Written Exam will be given on Saturday, August 8, 2020 at 9:00 a.m. at the Mentor High School in the Social Center. We will practice social distancing guidelines as recommended by the Governor of the State of Ohio; masks are recommended for the test and for applying in-person. A nonrefundable filing fee of $20 cash, or money order made out to "City of Mentor", is required with the application; NO PERSONAL CHECKS, CREDIT OR DEBIT CARDS. Ranking for tied scores is determined by date and time submitted. Application packets are available online and in-person at the Civil Service Commission Office. Applications will be accepted in-person weekdays only, July 13 – 24, 2020 from 8:30 am to 4:30 pm at the City of Mentor, Civil Service/City Manager's Office, Mentor Municipal Center, 3rd Floor, 8500 Civic Center Blvd., Mentor, OH, or by mail (see FACT SHEET ATTACHED).  EOE/ADA
PLEASE BRING COPIES OF PROOF FOR EXTRA CREDIT POINTS. DO NOT BRING ORIGINALS AS WE WILL NOT MAKE COPIES. SEALED SCHOOL TRANSCRIPTS ARE ACCEPTED BUT ARE NOT REQUIRED. IF YOU PRINT TRANSCRIPTS FROM THE INTERNET, THEY MUST HAVE YOUR NAME, DEGREE NAME AND TOTAL CREDITS VISIBLE. ALL COPIES OF PROOF ARE DUE BY 4:30 PM ON JULY 24, 2020, NO EXCEPTIONS.
The interview process will begin immediately after the Eligibility List is certified by the Mentor Civil Service Commission, which will meet after grades are received from the testing company. You will be notified of your grade and rank via regular mail following the Commission meeting. Please do not call for grades. Be sure to give a current address for mailing results.
*Tri-C Physical Agility certifications are not required to take the test but will be required for processing candidates on the Eligibility List. If you rank near the top, it would be beneficial to obtain a current certification if you don't already have one.
SEASONAL / TEMPORARY POSITIONS AVAILABLE
The City of Mentor is accepting applications to fill seasonal/temporary positions for 2020. Seasonal positions are available at city pools and day camp programs. Temporary positions are available at Black Brook Golf Course, Mentor Lagoons Nature Preserve & Marina, Mentor Senior Center and general temporary maintenance work within the Parks/ Recreation and Public Works Departments.
Temporary employees may work up to 40 hours per week but may not work more than 840 hours annually.
Seasonal employees work in establishments within the city which are deemed seasonal by the Parks & Recreation Dept. These positions are those associated with the city-owned swimming pools and the day camp programs.
When completing the employment applications, please indicate the position for which you are applying. All positions will remain open until filled. Applicants will be required to undergo a background check if recommended for hire. All positions are open until filled.
*Employment applications may be submitted online (see instructions to the right) and should be sent to HRMail1@cityofmentor.com.   EOE/ADA
*Maintenance Aide (Temporary)
Maintenance Aide positions are available in the Parks/Recreation Department and the Public Works Department. Maintenance Aide job duties vary depending on the assigned work area. Duties include assisting full-time crews in the maintenance of parks and public areas (mowing grass, trimming, weeding, painting, etc.). Rate of pay: $8.70 per hour.
*Recreation Intern (Temporary)
An intern is needed to assist the Parks and Recreation Department in the development, coordination, publicizing, implementation and evaluation of summer camps, aquatic programs, and special events. Work takes place in a busy and fast-paced environment. The successful intern must be customer-service driven and understand that we work as a team to accomplish a lot in a short amount of time to provide quality recreation programs and services to the residents of the City of Mentor. General work hours are Monday through Friday, 8 a.m. – 5 p.m., with some night and weekend hours necessary, depending on projects assigned. Rate of pay: College level $10.30 per hour, High School level $8.70 per hour.
*Lifeguard (Seasonal)
Applicants must be responsible, dedicated, and have a passion for aquatics. Applicants must be strong swimmers and possess a valid American Red Cross (or similar) Lifeguarding Training Certification which includes CPR for Professional Rescuers Certification & First Aid. This position safeguards and prevents injury or loss of life through water rescue and prevention techniques, first aid, and CPR and must possess knowledge of principles, policies and procedures of pool rules. Requirements include rule enforcement, maintenance and facility upkeep, activity reporting, and ongoing participation in staff training. Must have a commitment to action, leadership and service while ensuring the health and safety of patrons. Position requires a minimum commitment of 25 hours per week including afternoon, evening and weekend hours.
*Water Safety Instructor (Seasonal)
Instruct all levels of Red Cross swimming lessons. Constantly strive to provide maximum opportunity for skill practice for all students during each class period. Communicate regularly with parents and participants to ensure a positive understanding of the lesson program as well as individual student achievements and progress. Develop a well-organized lesson plan before each session. Maintain up-to-date course records of students. Must have a current American Red Cross Water Safety Instructor and C.P.R. Certification. Instructors are required to be in the water during each class to demonstrate skills and strokes. Position requires a minimum commitment of 25 hours per week including afternoon, evening and weekend hours. Rate of pay: $10.75 per hour.
 *Day Camp Counselor (Seasonal)
Day camp counselors are needed to be part of Mentor's summer camp programs. Applicants must be enthusiastic, creative, responsible, high energy, resourceful and have a genuine interest in creating a fun, engaging outdoor experience for elementary age children. Counselors will participate in staff training, supervise campers, and communicate with parents as needed. Must have a commitment to action, leadership and service. Must be able to work with other counselors as a team to create a positive camp experience. Applicants must have completed high school, be able to swim 25 yards and tread water for 2 minutes, and be CPR and First Aid certified. Preference is given to college students and/or graduates in the fields of Elementary Education, Recreation and Physical Education.  Rate of pay: $9.00 per hour.
*Positions at BLACK BROOK GOLF COURSE
The following temporary positions will work varying hours from March through October but we are willing to accommodate to your schedule.
Maintenance Aide, Cashier, Wait Staff
The hourly pay rate for these positions is $8.70. Wait Staff applicants must be 21 years of age and may receive tips.
Asst. Golf Course Manager
The rate of pay for this position is $11.50 and requires approximately 20 hours of work per week (early morning, evening and weekend hours). Work involves opening, closing and the general supervision of the golf course.
*Positions at MENTOR LAGOONS NATURE PRESERVE & MARINA
Courtesy Patrol (Temp)
Duties involve assisting facility visitors to the lagoons, nature preserve and marina. Approximately 25 hours of work per week including holidays, weekends, weekdays and evening hours. Schedules may vary. Rate of pay: $8.70 per hour.
Marina Assistant Operator (Temp)
Duties include the responsibility for boat lift services and general maintenance duties working a varying schedule of approximately 25 hours per week. Forklift certification is preferred but will train. $ 12.00 per hour
*Positions at CIVIC CENTER AMPHITHEATER
Special Event Attendant (Temp)
Duties include assisting full-time and part-time staff as needed for special events at the Mentor Amphitheater. Hours of work are primarily in the evening once or twice per week. Must be 21 years of age or older. Schedule and hours of work vary. Rate of pay: $10.00 per hour.
Camera Operators (Temp)
The City of Mentor Public Information Office is seeking multiple candidates to operate video cameras during events at Mentor Civic Center Amphitheatre. Events will take place in the evenings once or twice per week over the summer months. Events scheduled will include rock concerts, plays, operas and spoken word. Operational knowledge of professional quality video cameras and switching equipment is required. Position requires approximately two to six hours of work per week. Rate of pay: $12.00 per hour.
---
PART-TIME POSITIONS AVAILABLE
*PART-TIME FIREFIGHTER/EMT
The City of Mentor Fire Department is accepting applications for the position of part-time firefighter/EMT. Must be a US Citizen or be eligible to legally work in the US, at least 18 years of age, have a valid Ohio Drivers License and High School Diploma or GED. Minimum qualifications include the completion of Ohio Firefighter I and EMT Basic training. Firefighter II, Paramedic training along with some experience is preferred.  Applicants must successfully complete all hiring requirements. Starting rate of pay: $18.14/hr. Other compensation incentives are available.
Applications for part-time firefighters are accepted at all times.
*Employment applications for the above part-time positions may be submitted online (see instructions to the right of this ad) and should be sent to HRMail1@cityofmentor.com.  EOE/ADA
Last Update: 7/13/2020 9:45 AM
HIRING STATUS OF
RECENTLY POSTED
FULL-TIME & PART-TIME
POSITIONS
MAINTENANCE WORKER – FT – Applications are being reviewed.   POSTPONED
PT End-User Tech Support – Applications are being reviewed.   POSTPONED
GIS COORDINATOR – Applications are being reviewed.   

POSTPONED
TO SUBMIT APPLICATION ONLINE
Email to: HRMail1@cityofmentor.com
Please note:  Only files with the following extensions are allowed:  PDF, DOC, DOCX, JPEG, JPG. 
Applications for employment are accepted only for positions currently  advertised
A separate application  is required when applying for more than one position
Applications mailed must be postmarked no later than application deadline date
In the "Subject" line of your email, please include your

last name, first name and the position 
PDF VERSION
If you choose to submit an application by mail, simply print and complete the PDF VERSION, and mail  to:
Human Resource Office
Mentor Municipal Center, 3rd Floor
8500 Civic Center Boulevard
Mentor, Ohio 44060
The City of Mentor is an equal opportunity employer.