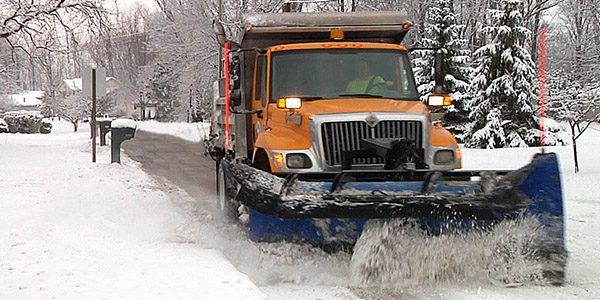 This department is responsible for the administration and maintenance of roadways, parks, storm drainage, street lighting, traffic control, Public Works buildings, equipment maintenance, recycling, yard waste collection and litter prevention education programs. Various capital improvement projects for drainage and roadway improvements are funded in the Public Works budget and administered in concert with the Engineering Department.
Public Works also aids, assists, and constructs improvements for other city departments. Staff, equipment, and materials are utilized to support the daily and/or emergency requests from other departments. Call (440) 974-5781 or e-mail pubworks@cityofmentor.com.
Road crews maintain and repair about 220 miles of city streets and state highways within Mentor, including patching, seal-coating, paving, curbing, sweeping, removing dead animals, roadside mowing, snow and ice control, crack sealing, and guardrail installation and repairs.
Parks maintenance crews work to improve the quality of Mentor's urban setting through the proper care and preservation of open space and conservation areas. Staff maintains all parks, municipal grounds, roadside areas and athletic fields.
Storm Drainage crews maintain and install various types of improvements including pipe installation, replacements, repair and ditch excavations.
Equipment Maintenance Division is responsible for the maintenance and repair of 100 large motorized vehicles and 200 other pieces of equipment utilized throughout the year by city departments.
Traffic Division maintains, operates and installs traffic signals, signs, and pavement markings.
Street Lighting is provided on a special assessment basis with the costs for installation and maintenance of the lights and appurtenances charged against a special account.
Recycling/Solid Waste Division coordinates all recycling and solid waste activities including education, litter prevention and household hazardous waste collections. Curbside recycling is contracted to a private hauler.