NOTICE – Temporary Building Division Functions
Updated May 8, 2020
Inspections in occupied homes for hot water tanks, furnaces, remodels, etc. will be performed remotely. Standards for remote inspections are below.
Inspections for home additions with access gained from the exterior of the house, new single-family dwellings and inspections for non-residential (commercial) construction will proceed as normal. Contractors, owners and our inspectors have the authority to alter these inspection procedures based on changing conditions.
Remote Inspection Procedures
The City of Mentor Building Division is requesting remote inspections for occupied homes.
Inspections for hot water tank replacements, furnace replacements and interior basement water management systems must be performed remotely.
Inspections for interior remodels of basements, kitchens, electrical panel replacements, etc. may be performed remotely depending on the type of inspection. These inspections should be discussed directly with the inspector.
The procedures for remote inspections are as follows:
A photo of the house with the house number and permit card is required.
Several photos of the work area are required with the permit card in each photo. For furnace and hot water tank replacements, an image showing venting, dirt leg, condensate disposal, tank pan/drain if required, condensing unit breaker and condensing unit refrigerant access ports.
For interior basement water management systems, provide photo of footing drain discharge into the sump crock, photos of the footing drain on the bedding, photos of the gravel backfill prior to pouring concrete and photo of the sump discharge line with the check valve.
Photographs shall be emailed to building@cityofmentor.com with the subject line of the email being the permit number and address.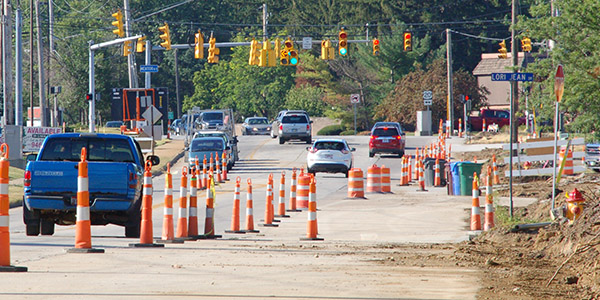 This Department oversees the city's capital improvements program, regulates public and private utility work within the public right-of-way, and oversees building construction to community standards to facilitate the safety of homes and buildings.
Engineering is involved with all utility and publicly or privately funded roadway construction in Mentor, both in reviewing and approving the construction plans, and inspecting the construction work performed. It is also involved with planning future public improvements, including storm water management and traffic control projects. It also reviews all residential, commercial and industrial site plans for conformance with the Mentor Code of Ordinances and Engineering standards.
Building is involved in all activities associated with residential and commercial building construction, including reviewing plans for conformance with building codes and performing on-site inspections to monitor for compliance with the building codes. Staff members assist the public by answering building-related questions and offering interpretations regarding compliance with building codes.
Call (440) 974-5785, or building@cityofmentor.com.
Get a Permit
A Building Permit Application is required for all construction including decks, pools, siding, sheds, porches, enclosures, etc.  Learn more.
Contractor Registration
All contractors within the City of Mentor, who contract with the general public, are required to register with the City prior to performing any work. Learn more.
Requests for Proposal
Contact Engineering/Building at (440) 974-5785 for a current list of available bids.
Stormwater Information
Current Projects
Click here for additional information on projects currently under construction.