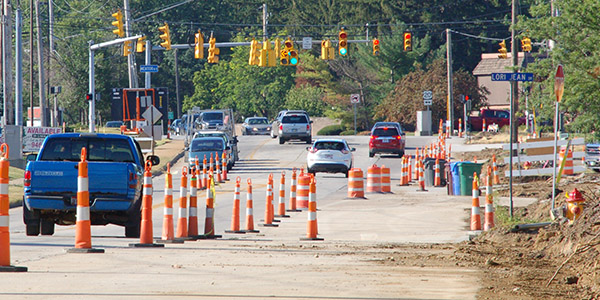 This Department oversees the city's capital improvements program, regulates public and private utility work within the public right-of-way, and oversees building construction to community standards to facilitate the safety of homes and buildings.
Engineering is involved with all utility and publicly or privately funded roadway construction in Mentor, both in reviewing and approving the construction plans, and inspecting the construction work performed. It is also involved with planning future public improvements, including storm water management and traffic control projects. It also reviews all residential, commercial and industrial site plans for conformance with the Mentor Code of Ordinances and Engineering standards.
Building is involved in all activities associated with residential and commercial building construction, including reviewing plans for conformance with building codes and performing on-site inspections to monitor for compliance with the building codes. Staff members assist the public by answering building-related questions and offering interpretations regarding compliance with building codes.
Call (440) 974-5785, or building@cityofmentor.com.
Get a Permit
A Building Permit Application is required for all construction including decks, pools, siding, sheds, porches, enclosures, etc.  Learn more.
Contractor Registration
All contractors within the City of Mentor, who contract with the general public, are required to register with the City prior to performing any work. Learn more.
Requests for Proposal
Contact Engineering/Building at (440) 974-5785 for a current list of available bids.
Stormwater Information
Current Projects
Click here for additional information on projects currently under construction.