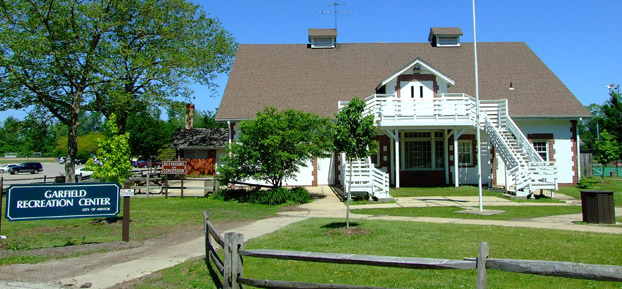 Rent A Facility
Planning a reception, private party or business meeting? Mentor offers six distinctly different facilities accommodating groups from 15 to 385 each at very reasonable rates. Rates include use of chairs and banquet tables. A $200 refundable security deposit is required when renting any of our facilities.
For parties serving alcohol, an off-duty Mentor police officer must be contracted by the renter to provide security and a $500 security deposit is required. The renter must also purchase an alcohol permit.
See specific facilities for other details.
Available Facilities
Rental Fees
Fees are listed with each facility. Fees are subject to change; please call to confirm. To receive the Mentor resident rate, proof of residency, in the form of a current utility bill and a photo ID are required at the time of booking.
All facilities must be reserved in person; reservations are not accepted by phone. Payment and a signed contract reserves the facility, we do not hold dates. Rentals are not accepted on holidays.
Rent a Picnic Pavilion
The City of Mentor has six picnic pavilions that can be used by your group or organization. Three pavilions, Edward R. Walsh Park (formerly Bellflower Park), Eleanor B. Garfield Park and Morton Park, can be rented in six-hour blocks and provide exclusive use of the pavilion during the rental period. Civic Center Park, Krueger Park and Presidents Park are for public use and can not be reserved for exclusive use.
Each of our pavilions includes picnic tables, grills and nearby playground areas. Edward R. Walsh Park, Eleanor B. Garfield Park and Morton Park also have lights and electricity available.
Pavilions may be rented from 9 a.m. to 3 p.m. OR 4 p.m. to 10 p.m. You can also reserve a picnic pavilion for the entire day by doubling the fee. Pavilion reservations are taken each year beginning the first business day in January and must be completed in person.
To reserve a pavilion and obtain a permit, visit the Recreation Office, located on the second floor of the Mentor Municipal Center, during regular business hours. To receive the Mentor resident rate, please provide a current utility bill and a photo ID with matching name and address.
Alcoholic beverages are not permitted. Call (440) 974-5720 for more information. Planning an indoor reception or party? Make sure to check out our indoor Rental Facilities.
Picnic Pavilion Rental Rates
Resident
Nonresident
Half Day
$75
$100
Seating Capacities
Edward R. Walsh Park
120
Civic Center Park
36
Eleanor B. Garfield Park
96
Krueger Park
15
Morton Park
36
Presidents Park
30