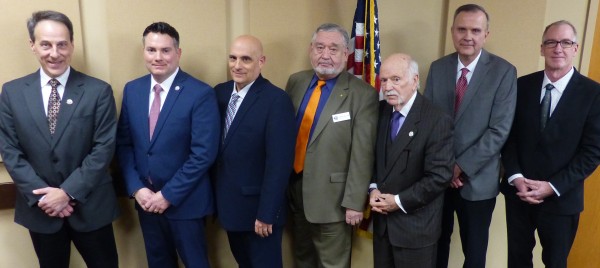 This seven-member Commission reviews all new industrial and commercial buildings, subdivisions, rezoning and conditional use permit requests. Members serve four-year terms. Meetings are held every three weeks on Thursday at 7:00 p.m. in Council Chambers located on the third floor of the Mentor Municipal Center, 8500 Civic Center Boulevard.
To reach the Planning Commission, please contact the Clerk (440) 974-5756 or murphy@cityofmentor.com   For questions related to processes and procedures, contact the Planning Department at (440) 974-5740 or planning@cityofmentor.com.
Next Meeting | Thursday, July 30, 2020   7:00 PM
Documentation
Despite the COVID-19 pandemic, the business of running the city must go on. Public meetings will proceed as scheduled unless otherwise noted.
For those who wish to participate, remote access to City Council, Planning Commission, and Building & Zoning Appeals Board meetings will be accessible via Webex. Meeting links, agenda, and information packets, will posted prior to each meeting on the Council or Commission pages.
While attending the meeting using Webex, you will see a window open on the bottom right side of the screen entitled "Q & A."
This window will be open five minutes prior to the start of the meeting and will remain open for ten minutes after the meeting begins, for a total of 15 minutes.  During that time, please type your name, address, and the reason you wish to address City Council.  You will also utilize this window to indicate your wish to comment during a scheduled public hearing that appears on the agenda.  At the appropriate time during the meeting, you will be recognized by the Council President and you will be unmuted and allowed to make your comments to Council.  If you are asking to comment at a public hearing, you will be recognized during the hearing.  If you wish to comment on an item on the legislative agenda, you will be recognized when that item appears on the agenda.  All other comments unrelated to the agenda will be heard near the end of the meeting.  Only your voice will be heard by Council, so do not worry about anyone viewing your immediate surroundings.
We would also like to remind the public that they can always communicate a message to City Council regarding any matter related or unrelated to the legislative agenda by emailing the Clerk of Council, who will ensure that all members of Council receive the message.  Those messages, however, will not be read at the meeting.
Please contact the Public Information Office at pubinfo@cityofmentor.com if you have any questions.
Commission Members
Richard D. Cicero
Brian G. Cook, Vice Chairman
George Hadden
John M. Perkovich
William D. Snow, Chairman
Richard R. Thiedemann
Geoffrey M. Varga, Secretary
Watch Live

Meetings are open to the public and are broadcast live on the Mentor Channel, Spectrum 1024, U-Verse 99, and on our App available for ROKU, Apple, and Android.
Meetings are rebroadcast numerous times throughout the following week.
Meetings are also archived so that you can view them at your convenience. Access our Video on Demand feature.