STAY UP TO DATE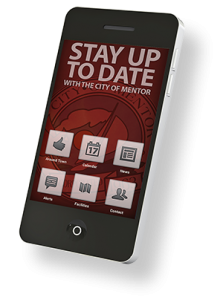 Stay up to date with the City of Mentor with our mobile app. The app features an events calendar, news feed, City Council and department contact information, facilities information and much more.
The app also features a push alert notification system to provide residents with breaking news and other information including road closures or emergencies.
The free app is compatible with iOS & Android devices and is live on iTunes and Google Play.  Download it now for free!
APP ISSUE:  Nov 1, 2019 –  Please be advised that the Push Alert function on the City of Mentor App is not functioning as it should. Posts have been delivering inconsistently for the past several weeks. We are aware of the issue and working towards a solution with the developer.
UPDATE: Nov 12, 2019. New system requirements were implemented on how "push notifications" are distributed through iPhones and Android devices. We have made the necessary changes and most (but not all) test messages went through. The developer believes that older versions of the app are not being automatically updated.  Users who continue to have issues are asked to uninstall/reinstall the app. We also ask that you follow us on Twitter and Facebook until all issues have been resolved to our satisfaction. Thank you for your continued patience. 
UPDATE 2: Nov 13, 2019. The push alert notification appears to be resolved with IOS Devices. We are continuing to work on the Android issue.