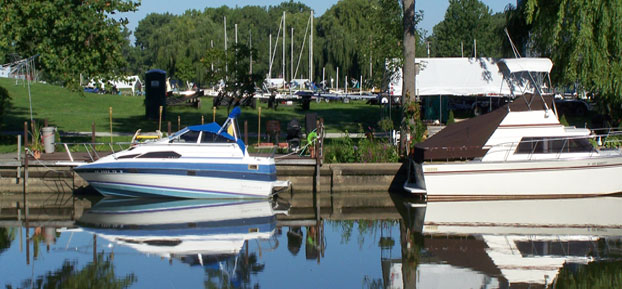 8365 Harbor Drive, Mentor, Ohio  44060 (Map)
(440) 205-DOCK (3625)
OFFICE HOURS
Monday – Friday  8 AM – 4:30 PM
The Mentor Lagoons Marina provides the perfect place to launch your boat. With direct access to Lake Erie, the Marina lies just west of Fairport Harbor and just a short distance from Cleveland.
The boat ramp at the Mentor Lagoons Marina is open April 1 – November 15, weather permitting.  The ramp opens one hour before sunrise and closes one hour after sunset.  Daily launch permits may be purchased at the Marina Office during business hours and are non-transferable and non-refundable.
An added benefit is secure dockage for both drive-up and floating docks; plus each drive-up dock has adjacent green space. The marina can accommodate boats up to 50 feet in length. The Mentor Lagoons Marina has yearly and summer-only rack storage available inside the storage building. Boaters can store their boat all winter and receive unlimited daily launches throughout the summer season, while they enjoy the security and maintenance advantages of an indoor location. Rack storage customers will also enjoy a picnic area with water, electric, picnic tables and related facilities adjacent to the storage building.
The Mentor Parks & Recreation Department offers dozens of kayaking, canoeing, sailing and leisure paddling opportunities.  Kayak rentals are available. If you are visiting with a group of 10 or more, you must make a reservation by calling 440-392-4295, otherwise rentals are first come first served. Renters must be at least 16 years old or with someone who is 16 or older. Rental rates for Mentor residents are $10/hour per single kayak or $16/hr per double kayak or canoe. Rental rates for non-residents are $12/hr per single kayak or $18 per double kayak or canoe. The Ohio Boaters Education Course is also offered monthly.
Learn more about the Mentor Lagoons Nature Preserve & Marina.