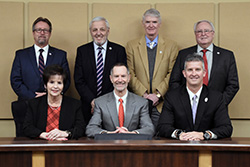 On January 7, 2020 Mentor Ward Councilpersons, reelected by Mentor voters in the November 2019 election, took the oath of office. Those who were sworn in include:
Sean P. Blake, Ward 1
Matthew E. Donovan, Ward 2
Bruce R. Landeg, Ward 3
John A. Krueger, Ward 4
Ward Council terms end on December 31, 2023.
In addition, Bruce Landeg, Councilperson Ward 3, was elected by his peers to serve as President of Council. Ward 2 Councilperson Matthew Donovan was elected to serve as Vice-President of Council. The President and Vice-President of Council serve for a two-year period.
Mentor City Council members also appointed several residents to serve on City boards and commissions. Those appointed include:
Richard Zaleski (reappointed) & Joseph Iafelice (reappointed) – Mentor Board of Zoning Appeals
Geoffrey Varga (reappointed) – Municipal Planning Commission
Juleian Curtis – Fair Housing Board
Steven Ammerman (reappointed), John Aten (reappointed) – Board of Tax Review
Cynthia Code Fenner (reappointed) – Tree Commission
More than 50 residents volunteer their time and expertise to City officials through their participation on City boards and commissions. Citizens are appointed by City Council and represent a valuable resource to the community by making recommendations on various municipal issues. Congratulations and thank you to all who were appointed.
PHOTO: 2020  MENTOR CITY COUNCIL 




FRONT

(left to right): Janet A. Dowling – Councilperson-at-Large; Bruce R. Landeg – President of Council, Councilperson, Ward 3; Scott J. Marn – Councilperson -at-Large 

REAR

(left to right):  Matthew E. Donovan – Vice-President of Council, Councilperson, Ward 2; Ray Kirchner – Councilperson-at-Large; Sean P. Blake – Councilperson, Ward 1; John A. Krueger – Councilperson, Ward 4