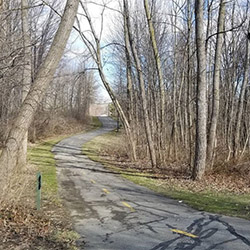 Parks and trails are open in the City of Mentor and we invite you to enjoy our great outdoors. While visiting our outdoor facilities, please be aware of the following:
Playgrounds and basketball courts are

CLOSED

until further notice.
Please practice social distancing and avoid close contact with others. The CDC recommends a minimum of 6 feet distance to help reduce the risk of spread between individuals. More info at cdc.gov
Do not congregate in groups of 10 people or more. While we pride ourselves on being a friendly community, please avoid social gatherings at our outdoor facilities at this time. We need your help to keep our outdoor facilities safe to you and others.
Please stay home if you are sick and practice good hygiene. Wash your hands after touching surfaces. Avoid touching your face. Sneeze or cough into a tissue or the inside of your elbow. Place garbage in trash receptacles.
Please check cityofmentor.com/news for updates regarding closures and restrictions.