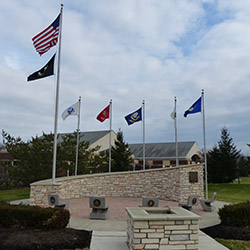 The City of Mentor will host a ceremony on Veterans Day, Monday, November 11th, to honor the men and women who have served our country in the military.
The ceremony will take place at 11:11 AM at the City's Veterans Memorial located on the corner of Center Street and Civic Center Boulevard adjacent to the Mentor Senior Center.
In the event of inclement weather, the ceremony will be moved inside the Mentor Senior Center. Veteran groups are invited to participate. Please contact the Mentor Recreation Department at (440) 974-5720 for details.
The ceremony will also be recorded and aired at a later date on the Mentor Channel for those unable to attend.
The Mentor Senior Center and Perkins Pancakes will be hosting a Veteran's Appreciation Breakfast at 9:30 AM on Saturday, November 9th at the Senior Center. Reservations must be made in advance by calling the Mentor Senior Center at 440-974-5725. Breakfast is free for all veterans. Non-Veteran guest breakfasts are available for $5.