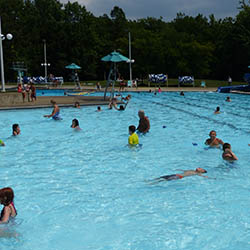 Mentor Civic Center Pool is scheduled to open on Saturday, June 13, 2020 pending approval of the Operating Plan submitted to the Lake County General Health District.
After careful review of Responsible RestartOhio Guidelines, the City of Mentor has established protocols in excess of state requirements to protect the health of pool guests. As Mentor Civic Center Pool is a public space, it is up to the individual to determine their level of comfort and acceptable risk when entering the grounds. Users will be required to maintain social distancing.
Civic Center Pool will be open daily through August 15, 2020 from 1:00 PM to 8:00 PM. Season Pass holders will be able to gain entry to the facility at 1:00 PM.  Day Pass holders will be able to enter at 1:30 PM.
Pool access will be available to Mentor residents ONLY. Proof of residency will be required for Season Passes and Day Passes.
Occupancy will be limited to 300 guests at any given time.
Those 12 and under must be accompanied by an adult.
Pool features including the obstacle course, climbing wall, kiddie pool, and splash pad will NOT be available for use.
Swim lessons will not be available this year.
Morton Pool, Garfield Pool, and Walsh Park Splashpad, will remain closed this year.
Season and Daily Pool Passes go on sale on Wednesday, June 3, 2020 at the Parks & Recreation desk located on the 2nd floor of the Mentor Municipal Center, 8500 Civic Center Blvd., to verify residency and print cards. Residency will need to be verified through a utility bill.
Adult, Senior, and Youth Single Memberships renewals can be done online if you still have your 2019 season pass.  Family renewals can be done by calling Mentor Parks & Recreation at (440) 974-5720.  Family memberships are for immediate family members residing at the same address only. New memberships will need to be purchased in person. Those purchasing day passes will be required to verify residency as well and will be issued a photo pass to use through the season. In order to alleviate wait at the pool, all are encouraged to purchase passes prior to the pool opening.
Pass sales will be conducted Monday through Friday from 8:00 AM to 5:00 PM and Saturday June 6 from 9:00 AM to 12:00 PM.
SEASON PASS RATES
Adult Single Membership: $50.00
Youth & Senior Membership:  $40.00
Family Membership (up to 3):  $90.00

Add'l Family Member:  $15.00
DAY PASS RATES
Single Day: $6.00
5-Visit Pass: $25.00
View the Operational Plan and Pool Rules as submitted by the City of Mentor to the Lake County General Health District.
View the Responsible RestartOhio Guidelines for Pools.