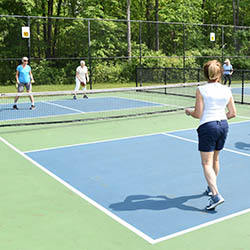 As per the Responsible RestartOhio plan, pickleball and tennis courts located at Civic Center Park, Garfield Park, and Walsh Park, will reopen on May 26, 2020. Courts will be open daily from sun-up to sun-down. Restroom facilities will be sanitized every two hours during daylight hours.
Users are to adhere to the following guidelines:
Stay home If you are sick or do not feel well
Pack hand-sanitizer and use it frequently
Avoid touching gates, fences, benches
Avoid touching your eyes, nose, or mouth
Wait until the group ahead of you has left the court before entering
Maintain six-foot social distancing at all times
Do not touch other players' racquets, balls, gear, etc.
Avoid using your hand to pick up balls when possible; use your racquet/foot to pick up balls to hit back to your opponent or another court
Use your own balls (for example, clearly mark yours or use a different color).
No loitering or gathering in groups
Pick up and dispose of your trash in the provided receptacles
Rules and openings are subject to change. As these are public spaces, it is up to the individual to determine their level of comfort and acceptable risk when participating in activities.
Read the Responsible Restart Ohio Guidelines as they relate to Tennis Courts.