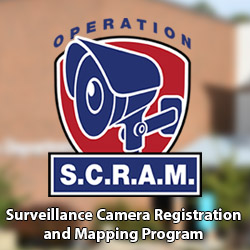 Private security cameras are everywhere these days and Police Departments across the country have started using them to their advantage to help solve crimes and conclude investigations. And, this idea has made its way to Mentor.
The Mentor Police Department is now a part of Lake County's new Surveillance Camera Registration and Mapping Program (SCRAM) – an initiative led by the Lake County GIS Department.
"Operation SCRAM gives residents and business owners in our community the opportunity to help keep Mentor safe," says Mentor Police Captain, Robert Valley.
Those who register are added to a secure database which allows Mentor Police to locate cameras near a crime. It's important to remember that registration does not grant Mentor Police access to your camera system. It simply lets them know the locations of these cameras.
"If a crime were to occur, we can look at the SCRAM map and determine points where the suspects may have gone past. We would then contact the owners of those cameras to see if any useful evidence is captured," adds Valley.
Participation in the SCRAM program is voluntary and participants are able to withdraw from the program if they choose to.  You can help keep Mentor safe by registering for Operation SCRAM today.
If you have any questions, contact the Mentor Police Department at (440) 974-5760 or police@cityofmentor.com.