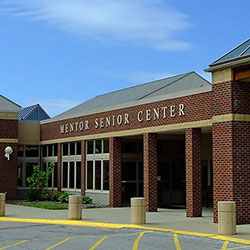 The Mentor Senior Center is pleased to offer our curbside meal service to the senior community. Due to high demand, reservations are limited  to two (2) meals per person per day. Hot meals at the Mentor Senior Center will be subsidized by funds from the Lake County Senior Services Levy.
The Mentor Senior Center is offering curbside pickup for a "made-from-scratch" daily special. The cost is $4.50 per meal. However, the Lake County Senior Services levy will subsidize $2 per meal for seniors. Therefore, the cost for seniors is $2.50 per meal. Reservations for lunch must be made at least 24 business hours prior, however we expect to sell out quickly. We suggest registering for a week at a time.
Reservations can be made ONLINE or by phone at 440.974.5725 and paid for with a credit card. Please call 440-974-5720 to request a user name and password to register online. Pickup time is 11:30 – 12:00. Please pull up to the curb at the Munson Road entrance. Please show identification or receipt. A volunteer will get your meal for you.
All seniors in Lake County are welcome. You do not need to be a Senior Center member.
Menu for the week of April 6:
Monday, April 6          Swedish meatballs
Tuesday, April 7          Chicken piccata
Wednesday, April 8     Salisbury steak
Thursday, April 9         Turkey with stuffing
Friday, April 10             Tuna noodle casserole
The menu will be posted online by Wednesday evening each week, and registration for the following week will begin at 8:00 am Thursday.
Stay warm and stay healthy!