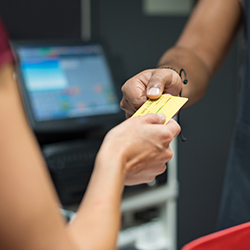 With the holidays nearly upon us, we're all checking gifts off our lists and looking for the best deals we can find.  We'd like to remind you to please shop local when you can.  Why?  Because 68 cents of every dollar which is spent local, stays local.
It's no secret that shopping and dining is a big deal in the City of Mentor. Over 300 retailers and 170 eateries generate over $1.6 billion in annual sales and employ over 9,500 people in our city.
The direct impact is evident, but the indirect benefit is that income tax dollars generated through these jobs help pay for safety forces, road construction, parks and facilities, senior programs, and many of the other things that make Mentor such a great place to live.
Municipal income taxes account for over 66% of the City's annual budget which is why shopping local makes so much sense.  Although, you may save a few bucks when ordering gifts online, you support the local economy and help enhance the quality of life for everyone in our community every single time you purchase from a Mentor business.
Download a copy of the newly updated Mentor Visitor Guide which contains information on shopping and dining options in our City.