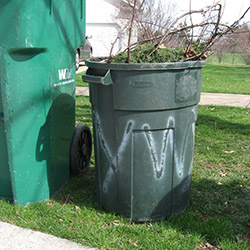 The City of Mentor Yard Waste Program runs from the first full week of April through the second full week of December.
Collection is limited to 12 units per week from April through the third week of October and increases to 25 units per week the last full week of October through the 2nd week of December.  Each unit should weigh less than 35 lbs.
BUNDLES
Brush and twigs can be bundled. Branches should not exceed three-inches in diameter and must be cut into 4-foot lengths and tied in bundles.
BAGS
Grass clippings, plants, leaves, small twigs, hedge trimmings, etc. can be contained in biodegradable paper yard waste bags. Plastic bags are not accepted.
PLASTIC CONTAINERS
Waste can also be placed into reusable containers of up to 32-gallon capacity with holes drilled on the side near the bottom to allow for water drainage. Please leave the lid off and ensure that the container is prominently marked YW.
COLLECTION DAY
Items are collected weekly on your regular trash day.
Must be at the curb before 7 AM on collection day and not before 3 PM day before collection.
If a holiday falls on a weekday, collection will be the day after your regular collection day. If the holiday is on a weekend, collection is NOT delayed.
There are no call backs for missed collections.
OTHER DISPOSAL OPTIONS
The following businesses are potential drop-off locations for yard waste outside of Mentor's annual program.  Please be sure to call these locations ahead of time regarding any restrictions, requirements, and/or costs.
Arcola Creek Nursery, 2452 Dock Road, Madison, Ohio, (440) 428-7497
Brotzman Nursery, 6899 Chapel Road, Madison, Ohio, (440) 428-3361
Klyn Nursery, 3322 State Route 84, Perry, Ohio, (440) 259-3381
MRLM, 6011 Heisley Road, Mentor, Ohio, (440) 352-1900
River Road Nursery, 4468 River Road, Perry, Ohio, (440) 259-2009
This information is provided as a convenience to our residents.  These are independent businesses and the City does not guarantee or endorse services or availability as they may change without notice.
QUESTIONS & ADDITIONAL INFORMATION
For questions related to the City of Mentor Yard Waste Collection Program, contact the City of Mentor Public Works Department at (440) 974-5780 or Waste Management at (866) 797-9018.
For additional information regarding the City of Mentor Yard Waste Collection Program and related Ordinances, visit the Waste Removal and Recycling page.