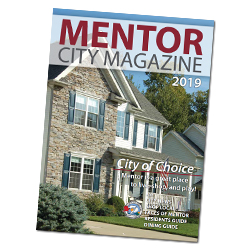 The City of Mentor is pleased to announce that we are starting to work on the sixteenth edition of Mentor City Magazine with our publishing partner, Direct Market Publishing.
Mentor City Magazine is an annual publication which features articles, community profiles, an events calendar, shopping and dining directory, resident information, and much more.
A copy of Mentor City Magazine is mailed to each residence in the City of Mentor.  Additional copies are distributed at locations throughout the City and at community events. Digital content is also posted on our website and social media accounts.
The production of Mentor City Magazine is made possible through the support of paid advertisements.  We hope you'll take the opportunity to participate. Download a copy of the 2020 Mentor City Magazine Rate Card or contact Kim Miller with Direct Market Publishing at 440-799-8882 via email or to learn more.