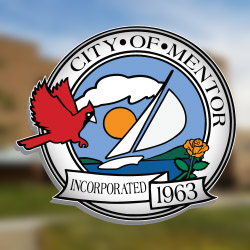 Waste Management Suspends Curbside Pickup of Yard Waste & Bulk Items – UPDATE
As a result of the COVID-19 pandemic, Waste Management is modifying waste collections in all of its service territories for the protection of their employees including Mentor.  As a result, only trash or recyclables placed in their respective Waste Management containers will be collected until further notice. Mentor residents can drop off yard waste free-of-charge beginning Monday, April 6th, at Eleanor B. Garfield Park. Learn more.
Laketran COVID-19 New Precaution – Rear Boarding
To encourage social distancing, effective Wednesday, April 1, 2020, Laketran will operate all Local Routes with buses equipped with rear doors. Customers are required to enter and exit the bus using the rear door. In compliance with the ADA, front doors will be available to customers who use wheelchairs or need the boarding ramp. Learn more.
Online Programming
Organizations across NE Ohio have teamed up to create online programming including support groups, bingo, exercise classes, cooking and baking classes, trivia, presentations, and more.  You can find a full list of programming on MotivateLakeCounty.com.
Mentor Senior Center Hot Lunch Pickup
The Mentor Senior Center is offering curbside pickup for a "made-from-scratch" daily special. The cost is $4.50 per meal. However, the Lake County Senior Services levy will subsidize $2 per meal for seniors. Therefore, the cost for seniors is $2.50 per meal. All seniors in Lake County are welcome. You do not need to be a Senior Center member.
Reservations for lunch must be made at least 24 business hours prior, however we expect to sell out quickly. We suggest registering for a week at a time. Reservations can be made online or by phone at 440.974.5725 and paid for with a credit card. Please call to request a username and password to register online. Pickup time is 11:30 – 12:00. Please pull up to the curb at the Munson Road entrance. Please show identification or receipt. A volunteer will get your meal for you. Visit the Mentor Senior Center page for menu and additional details.
Concerns Over "Stay at Home" Order Compliance
Concerns regarding compliance to the Stay at Home Order in Lake County may be reported to the Lake County General Health District at COVID19@lcghd.org or 440-350-2188. Individuals seeking anonymity are encouraged to report via telephone. Due to an increased volume of inquiries, and the need to consult with Ohio Department of Health and legal expertise, it may take up to 48 hours to respond and/or resolve a complaint.