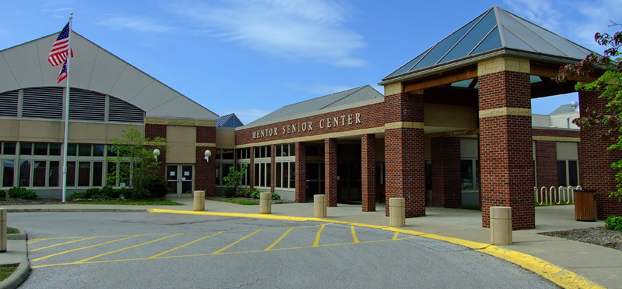 8484 Munson Road, Mentor, OH 44060 (MAP)
(440) 974-5725
The Mentor Senior Center is a thriving meeting place for senior citizens of all ages and currently has more than 5,000 members. Full use of the facility is available to anyone age 55 and older.
This vibrant 22,000 square foot facility features a library, billiards room, computer room, fitness center with aerobic and strength training equipment, fitness studio offering a variety of fitness classes, arts and crafts room, health service room, meeting rooms, kitchen, main hall with stage, and an inviting lobby and reception area with double-face fireplace.
Whether you're using the fitness equipment, learning to use a computer or enjoying a delicious home-cooked lunch with friends for the afternoon, drop in and enjoy all the senior center has to offer.
The Center is open Monday through Thursday from 8 a.m. – 9:30 p.m. and on Friday from 8 a.m. until 5:00 p.m. The office closes at 7:30 p.m. Monday through Thursday and Friday at 4:30 p.m. The Munson Road doors are open at 7:00 a.m. Monday – Friday for Fitness Center access only. The Center also hosts a number of evening and weekend programs.
Become a Member!
An annual membership is required to participate in programs, and to use the facility.  Please take a moment to fill out a membership form. Please note that this form must be submitted in person.