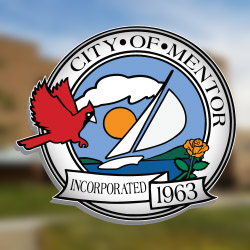 Stay at Home Order
Amy Acton, MD, MPH, Director of the Ohio Department of Health has ordered that all persons stay at home unless engaged in essential work or activity. All individuals currently living within the State of Ohio are ordered to stay at home or at their place of residence with exceptions as outline in the order.  This order is effective at 11:59 PM tonight.
Please Donate Your Masks & Surgical Gloves
As we prepare for the COVID-19 outbreak to peak, the City of Mentor is seeking donations of surgical masks and/or surgical gloves so they may be put to use by our safety forces and local healthcare partners.  Donations can be arranged by emailing pubinfo@cityofmentor.com.
No Soliciting
The Mentor Police Department has advised registered solicitors that all permits have been suspended until further notice.  Non-profits are asked to cease door-to-door solicitations until further notice.
City Tax Filings
Consistent with the recently announced Federal Tax extension, city tax filings are expected to be extended to July 15, 2020. A State House Bill has been introduced recommending the extension for State of Ohio tax filings. Local Tax Rules for the City of Mentor will automatically follow the State adopted extended tax due dates.  In-person assistance has been suspended until further notice. Contact RITA at 800.860.7482 for additional information and assistance by phone.
Resources Available for Economic Support
The COVID-19 Pandemic has created a great strain on the nation's healthcare system, but it's not come without its economic difficulties as well. State leaders are working to ensure resources are readily available to Ohio businesses and workers to ensure we all weather this difficult time, remembering we are all in this together. Connect with local, state and federal resources and funds.  Learn more.
Enjoy Our Great Outdoors
Playgrounds and basketball courts are CLOSED until further notice. The public is invited to continue to enjoy our parks and trails while maintaining a safe social distance. Learn more.
UPDATE/CORRECTION: City tax filings are expected to be extended to July 15, 2020. This has not yet occurred as an introduced State House Bill has not yet been approved.