There Is Always Something To Do in Mentor!
If you're in the area for a convention, a tournament, or if you're just passing through, we invite you to discover all there is to see and do in Mentor, Ohio.
Mentor was recently named a Buckeye Trail Town.  Nature lovers will enjoy over 1,200 acres of all-season splendor. Observe rare bird species at the Mentor Marsh as they migrate in the spring and fall. The Mentor Lagoons Nature Preserve and Marina features hiking and biking trails, a wild natural beach, marina, kayak rentals, and more. Nearby Headlands Beach State Park boasts the longest natural beach in the State of Ohio. Mentor Civic Center Park features an Olympic sized pool and water features, ballcourts, a playground, picnic shelters and our new state-of-the-art Mentor Civic Amphitheater – which is home to the popular Mentor Rocks summer concert series as well as a host of other free performances. Don't miss the Fourth of July spectacular featuring a classical performance followed by a 25-minute fireworks display.
The Mentor Ice Arena is the coolest place in town and is home to the FHL Mentor Ice Breakers as well as a number of skating programs, tournaments and exhibitions. Enjoy year-round open skates.
Established in 1927, Black Brook Golf Course is one of the nicest municipal courses around. It was designed by Bertie Way – who also designed the famous South Course at Firestone.
Mentor is a shopping and dining destination with over 325 retailers and 170 eateries including national chains as well as number of mom-and-pop shops with their own unique offerings. The Great Lakes Mall was the largest mall in the US when it was first opened in 1960. It continues to evolve and thrive to this day with a variety of shopping, dining, and entertainment options.
Mentor was founded in 1797 and was home to the nation's 20th president. James A. Garfield used his front porch as a platform to greet thousands of well-wishers during his presidential campaign. Visit the James A. Garfield National Historic Site about his life and legacy. The Wildwood Cultural Center was designed by Garfield's son Abram as a summer retreat for noted industrialist, John G. Oliver. The century Tudor-style mansion is nestled on 34 wooded acres and is home to a number of cultural and arts events.
The Indian Museum of Lake County is a bit hard to find but well worth the effort!  It is home to over 60,000 artifacts which were discovered locally as well as across North America.
The City of Mentor knows how to throw a party with a number of popular events throughout the year. Mentor On Tap and Uncorked features the best beers and wines that Ohio has to offer. Headlands BeachFest is the ultimate beach party with sand sculptures, live entertainment, crafts, food and more! Mentor Cruise-In draws over 800 classic cruisers from across Northeast Ohio. Wildwood Fine Arts and Wine is now in its 39th year. Mentor CityFest is our semi-official end-of-summer bash.
We hope you take the opportunity to discover everything that Mentor has to offer!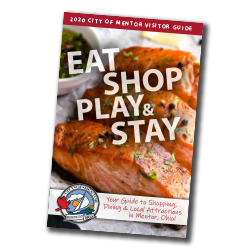 Download a copy of our newly updated Mentor Visitor Guide which contains information on restaurants, shopping, events, activities and more.