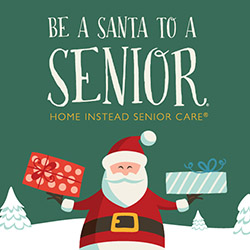 The "Be a Santa to a Senior" program returns for 2019. Over the past five years, over 2,000 gifts have been delivered to seniors in Lake County as a result of this program. Of those gifts, over half came from the tree located in the lobby of the Mentor Municipal Center.
It's easy to participate: Simply pick an ornament, buy the item listed, and return it to the front desk or to the Mentor Police Records Counter. The gift wishes are simple items such as new slippers, crossword puzzles, warm blankets and stamps.   This wonderful program is a way we can give back to our community by providing not only gifts, but much needed human contact to our senior citizens in need.
All gifts MUST BE returned to no later than December 6, 2019.  Gifts should be newly purchased and unwrapped.
We will be hosting a gift-wrapping party in the lobby of the Mentor Municipal Center on Friday, December 13, 2019 starting at 10 AM which will continue until all gifts are wrapped.   All are welcome to participate.
Volunteers will pick up the gifts and deliver them to senior citizens in need who otherwise may not receive a gift or visitors this holiday season.
The Mentor Municipal Center is located at 8500 Civic Center Boulevard, Mentor OH 44060 and is open Monday through Friday from 8 AM to 5 PM.