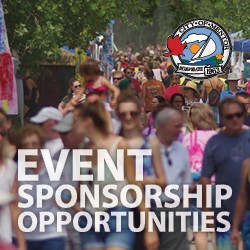 The City of Mentor hosts a number of events each year to encourage social interaction and bind our community. Most of these events are free to the public and made possible through corporate sponsorship and the generosity of local businesses.
Mentor events are well-managed, well-covered by local media, and most importantly, well-attended with over 100,000 guests each year including:
Mentor Rocks
Fourth of July Celebration
Mentor On Tap & Uncorked
Mentor CityFest
Headlands BeachFest
Mentor Cruise-In
Mentor Chill Out
Mentor Cultural Arts Series
Mentor Public Art Display
Mentor Farmers Market
Download the 2020 City of Mentor Event Sponsorship Packet today to find out how you can be a part of it.
Other sponsorship opportunities are available. The City of Mentor reserves the right to decline sponsorship. Pricing and availability subject to change without notice. Contact Ante Logarusic at (440) 974-5794 or logarusic@cityofmentor.com for additional information.