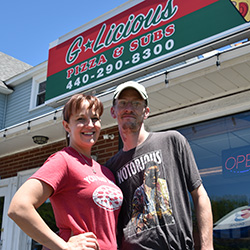 Greg Garbaloff is not Italian, but nonetheless, he knows his pizza. He's worked for the last 20 years in the pizza industry and recently took a "leap of faith" and opened his own pizzeria right here in Mentor.
He and girlfriend Lauren Toth knew that opening a new business required lots of planning and hard work, but what they didn't count on was opening a new business during a pandemic. Despite the setback, he didn't lose faith and kept working to open the business.
And, his faith has been justified. G-licious Pizza opened in April and has quickly become one of Mentor's favorite pizza shops. Greg's secret for success? Fresh ingredients – freshly made dough, fresh-cut vegetables, fresh-made desserts. You can taste it in every bite, and word of the great new pizza shop is spreading throughout Mentor and beyond.
Greg's business plan was to start small and let customers discover the fresh goodness of G-licious. With little or no advertising, and by using social media to spread the word and plenty of pictures of his tempting menu, business has been better than expected. Their Facebook follows have tripled and sales have steadily increased as folks find out about Mentor's newest Pizzeria.
While Greg's favorite pizza is the traditional pepperoni and banana peppers, the shop's signature pizza and most popular is their Chicken Philly Pizza which features a cheesy sauce topped with mushrooms, red onion, green peppers, cheese and grilled chicken. Other popular menu items include Hot Garlic Parmesan Wings, Italian Subs and Funnel cakes. All made fresh right when you order.
Garbaloff loves what he does and wants to spread that love through fresh, delicious pizza. As Greg says, G-licious Pizza is "a slice above the rest!"
G-licious Pizza is located at 7361 Center Street. For hours and additional information or to place your order, visit www.gliciouspizza.com or call 440-290-8300.
Thanks to G-Licious Pizza for their investment in our community. We wish them continued success in the future.