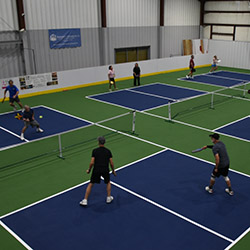 Pickleball is among the fastest growing sports in the world, and if you've been near Civic Center Park on any given morning – you've seen the courts packed with enthusiasts.
Combining elements of tennis, ping pong, and racket ball, Pickleball can be played by practically anyone regardless of age or physical condition. Most of all, it's fun. It's easy to see why so many have been bitten by the bug.
The pickleball craze hit Mentor earlier this decade, prompting city officials to convert Civic Center Park's little used tennis courts into pickleball courts back in 2013. There are currently 15 outdoor courts in the city which made Mentor the Pickleball Capital of Ohio until recently.
We're taking that distinction back with the opening of Pickleball World at Heisley located at 6000 Heisley Road behind Mentor Heisley Racquet Club which adds 4 dedicated indoor courts.
Pickleball World is the first dedicated indoor facility in Greater Cleveland and will be open year-round.
Leagues, lessons and open play are available, and you don't need to be a member of the Mentor Heisley Racquet Club to play.  Call 440-639-2582 for pricing and availability. You can also learn more at www.mentorpickleball.org
Thanks to Mentor Pickleball and Pickleball World for their continued investment in our community and for putting Mentor on the Pickleball map.