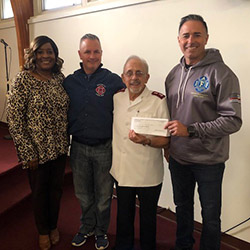 Mentor Fire's annual "Rescue the Needy" food drive raised a total of $6,050.00, along with a fair amount of non-perishable food items. Lieutenant Mike Smith and Firefighter Paramedic Dominic Vivolo presented the check and food last week to the Salvation Army in Painesville.
Over the past 25 years, this drive has helped a countless number of those in need right here in Lake County – especially around the Thanksgiving and Christmas holidays.
Mentor Fire is thankful and proud of the continued support they receive from the Great Lakes Mall, members of the department, and especially members of the community, for making a difference to those in need in our community.