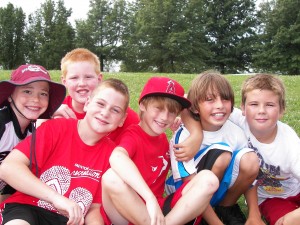 The City of Mentor Recreation Department offers more than 100 different camp experiences each summer for kids ages 4 and older.
Registration for 2020 camps begins January 27 at 8am for residents and January 30 at 8am for nonresidents. We highly recommend registering online as we anticipate a very busy registration day! See below for details.

About Our Camps
Mentor Parks & Recreation is dedicated to providing an outstanding, fun and safe camp environment and experience for all those who participate. We offer exciting camp experiences across many areas of interest designed to promote physical activity, teach new skills, and challenge kids to reach and grow and to make new friends. To accomplish these goals while maintaining safety, affordability and convenience, we rely on a well-trained staff of adults and college students who have a passion for working with young people. Here's a little more about our staff:
Staff members are primarily adults and college students; a few high school students assist
All staff members are CPR and first aid certified
Staff are knowledgeable and well-trained
All staff members go through criminal background checks before they are hired
Emergency and safety procedures are reviewed and practiced on a regular basis
Staff members are available to answer your questions at any time
We maintain low staff to camper ratios to provide the best experience possible
Easy Ways to Register
Online:  It's FREE, easy, fast, secure and convenient! Mentor Parks & Recreation moved to a new registration software system in December 2018. The easy to use Customer Portal allows for fast, safe and secure online registration and a view of your registration history. If you have not used the updated online registration and wish to register for camps online, you must call the Recreation Office at 440-974-5720, Wildwood Cultural Center at 440-974-5735 or the Mentor Ice Arena at 440-974-5730 and set up a new account prior to registering.
Phone-In: Monday – Friday, 8 a.m. – 5 p.m. (440) 974-5720 Visa or Mastercard Accepted
Mail-In or Drop-Off:  Recreation Office – 8500 Civic Center Blvd. Mentor, Ohio 44060 Monday – Friday, 8 a.m. – 5 p.m.  Pay by check or charge.
Please note that registration for camps generally closes the Wednesday before it is scheduled to begin so that our staff can prepare necessary paperwork, verify supplies and maintain the correct staff to camper ratios. Registration will not be accepted the day a camp begins.
CAMP REFUNDS – NEW POLICY
Please choose your camps carefully. Full refunds will only be granted if a camp is canceled by the City of Mentor. An administrative fee of $25 will be assessed per person per camp for any changes made to camp registrations. Changes will include participant cancellations, refund requests and/or transfers. Changes must be made one month prior to the start of camp.
Communication with Campers and Parents
About four days before each of our camps is scheduled to begin, parents and campers can expect to receive information by email with a reminder of where camp is held, what to bring, as well as any updated information you might need to make your camp experience the best. You will also receive an Information & Emergency Form that will need to be completed and turned in to the camp director the first day of camp. It is important that parents provide a valid email address upon registration so that we can deliver this important information to you.
What To Bring/Wear/Remember for Camp
For all camps: Wear loose, comfortable clothing and tennis shoes (no sandals) each day. Also, to stay properly hydrated, each participant will need to bring a water bottle with his/her name on it to camp every day. For outdoor camps, please apply sunscreen 30 minutes before arriving at camp.
What Types of Camps Are Offered By Mentor Recreation?
Traditional Day Camps
Civic Center Day Camp Day and Camp Wildwood are traditional day camps offering fun all summer long. Our Middle School Camp, Operation Outrageous Fun, provides six different weekly adventures for students having completed grades 6 – 8. Garfield Play Camp, a favorite among preschoolers, is a day camp for children age 4 – 6.
Discovery Camps
Discovery Camps such as Grandparent and Me!, Wildwood Theatre Camp, X-treme Science Challenge Camp and the new Echo Hero Camp offer kids the chance to do something different while learning new skills, expanding on a hobby, or just trying something new of interest.
Sport Camps
Popular one-week sport and special interest camps include Boating, Soccer, Track, Figure Skating, Hockey, Gymnastics, Fencing, Basketball, Scuba Diving, Tennis, and more.
Have Questions About Camp?
Just send us an email at recreation@cityofmentor.com with your camp questions regarding registration, payments, camp deposits or other topics of interests. We'll be in touch with you right away.
Volunteering
Mentor Recreation offers a Lend A Hand For Summer volunteer program for young adults over the age of 14 and having completed 9th grade. Opportunities are available to volunteer at Civic Center Day Camp, Garfield Play Camp, Camp Wildwood, and with our Learn to Swim lessons and special events. Interested volunteers must apply and be selected to participate in this program. Get an application here.