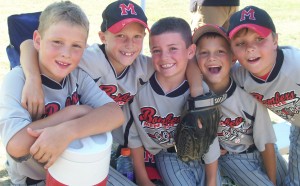 This community information list is provided as a service. Athletic leagues listed are Mentor-based organizations that serve Mentor residents, youth and adult. The city does not run these organizations nor does the city govern the rules and bylaws of these organizations. Please use the contact numbers below to receive additional information about the league or sport.
Youth Leagues
BASEBALL/SOFTBALL
Mentor Baseball
Jeff Elly, President, (440) 463-3913
T-Ball age 4 & 5 coed
Youth Baseball age 6-17 coed
Adult Baseball age 18 coed
Registration: December – March
www.mentorbaseball.com
Mentor Girls Softball
Tim McLaughlin, League Director
T-Ball age 4-6 coed
Slow-Pitch Softball age 7-13 girls
Fast-Pitch Softball age 9-18 girls
Registration: January-March
www.mentorgirlssoftball.org
Mentor Softball Association
Kathy Kozenko, Director of Operations (440) 341-3623
Youth Co-Ed Slow-pitch Softball ages 4-17
Adult Co-Ed Slow-pitch Softball ages 18+
Registration: January – April
www.mentorsoftballassociation.com
McMinn Baseball
Baseball age 5-18 coed
Registration: February-March
www.eteamz.com/McMinnBaseballLeague
BASKETBALL
Mentor Youth Basketball
Boys & Girls grades 3-6
Registration: September-October
www.mentorbasketball.com
CHEERLEADING
Mentor Youth Cheerleading Association
Ages 5 – grade 6
Email: MYCAcheer@gmail.com
Registration: May – July
www.mcyca.com
FLAG FOOTBALL
United States Flag & Touch Football
Boys & Girls Ages 3-17
Registration: Year round
www.usftlyouthflag.com
FOOTBALL
Mentor Cardinal Youth Football Association
(A Division): 10 & 11 year old
(B Division): 8 & 9 year old6
(C division): 6½ & 7 year oldr
Registration: January –  July
www.mcyfa.com

Northeast Ohio Flag Football
www.neoflag.org
HOCKEY
Mentor Youth Hockey Association
Ages 5 – 15
(440) 974-5730
Furman@cityofmentor.com
www.mentoryouthhockey.com
LACROSSE

Mentor Youth Lacrosse (MMSL)
Boys & Girls, Grades 3 – 8
Registration: November – March for Spring Season
Contact: mentoryouthlacrosse@gmail.com
www.mentoryouthlacrosse.com
RUGBY FOOTBALL
Mentor Area Rugby Club
Boys teams ages 14-18
John Hummel jhummel63@hotmail.com
Registration: January-March
SOCCER
Mentor Soccer Club
Jamel White, Vice President
For inquiries email us at jamel30@sbcglobal.net
Boys and Girls Recreational teams – ages 5-18
Boys and Girls Travel teams – ages 8-14
Registration: April 1-June 15 (for both Fall and Spring seasons
www.mentorsoccerclub.com
SWIMMING
Mentor Swim Team–Suburban Swim League
Boys & Girls age 15 & under
For inquiries, email info@mentormarlins.com
Registration: January – June
www.mentormarlins.net
WRESTLING
Mentor Youth Wrestling Club
Ages 5-12
Registration: October/November
www.mentoryouthwrestling.com
Adult Leagues

ADULT SOFTBALL
Mentor Men's Sunday Softball
Nick Laudato, Commissioner (440) 856-3639
nick@theprobatepro.com
ADULT HOCKEY
Men's 35 and Over Hockey
Contact Mentor Ice Arena (440) 974-5730
GOLF
Black Brook Golf Course is home to more than a dozen adult golf leagues. Call the course at (440) 951-0010 to find a league for you.