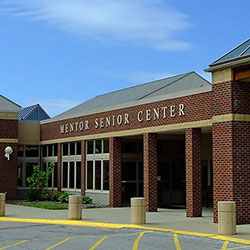 Hello Mentor Seniors:
I hope you are staying healthy and safe during these uncertain times. It is hard to believe we are in our 9th week of the Senior Center being closed to the public. We are working hard providing daily meals and working to prepare for a safe reopening.
The Mentor Senior Center will remain closed until at least June 30 and until state and local orders restricting use are lifted and the risk to public health is diminished. All Senior Center activities are cancelled except for the Curbside Meal Program and Curbside Senior Produce Market. We will determine if we will proceed with scheduled trips a month at a time. At this time trips have been cancelled through June. When a reopen date has been determined, we will communicate the reopen date, as well as date for program registration.
Full refunds will be issued for all cancelled May and June trips/programs in the same manner in which they were paid. Refund receipts will be emailed or mailed upon completion. We hope to process all refunds within the next two weeks.
For more information on City recreation cancellations, click here https://cityofmentor.com/cancellation-of-june-events-activities/
Curbside Meals
We continue to offer made from scratch curbside meals. Lunch reservations are $4.50 per meal and can be made online or by phone at 440.974.5725 and paid for with a credit card, beginning at 8 am Thursday for the following week. If you are able to order online, please call to request a username and password.  Please note the Senior Services Levy subsidy is no longer available.
Click here to register online https://secure.rec1.com/OH/mentor-oh/catalog
Reservations are first come, first served and sell out very quickly; limit of 2 meals per person.
Menu for the week of May 18
Monday, May 18                     Meatloaf and mashed potatoes
Tuesday, May 19                     Swedish meatballs
Wednesday, May 20               Roasted pork with gravy
Thursday, May 21                   Turkey with stuffing
Friday, May 22                        Vegetable Lasagna
Curbside Produce Distribution
In conjunction with the Cleveland Food Bank we will offer curbside produce distribution on Monday, May 18, from 10:30 – 11:30 am at the Munson Road entrance. We are taking the necessary health precautions using gloves, face masks, and practicing social distancing and will load it into the back of your car. You do not have to get out of your car. Note the earlier time to accommodate the curbside meals. No reservations are needed. First come, first served.
Communication
Updated information will be provided as circumstances change and will be posted at the Mentor Senior Center website and Facebook page as well as on voicemail (449.974.5725). The menu for the week will be posted in these 3 locations by Wednesday at 5:00 pm each week. Don't miss the CoVid19 updates section on the webpage. Please check these locations frequently to get updates. The newsletter is on hold until we have a firm reopen date.
Click here to view Senior Center website
https://cityofmentor.com/departments/parks-recreation/facilities/mentor-senior-center/
Click to view Senior Center Facebook page
https://www.facebook.com/mentorseniorcenter/
We appreciate your patience and understanding as we face this challenge together.  We look forward to seeing all of you when we reopen.
Renee Ochaya
Senior Center Recreation Manager