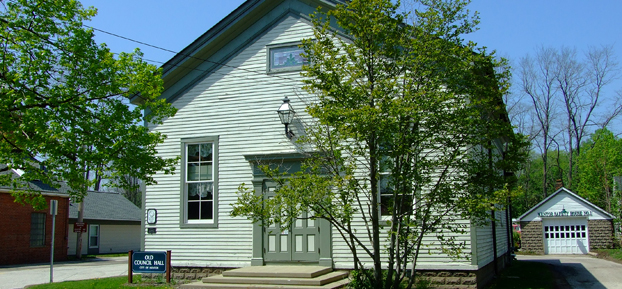 7250 Jackson Street, Mentor, OH 44060 (Map)
Built originally as Mentor Christian Church in 1856, the building was moved to its current location and served for a number of years as Mentor Township Hall.
Former Mentor resident and U.S. President James A. Garfield – the only U.S. President to also be an ordained minister, used to attend and occasionally preach here.
This renovated historic building features an air-conditioned hall with a warming kitchen. It accommodates up to 100 people for parties, showers, weddings and more.
For questions on how to reserve, please call (440) 974-5720. Rental contracts must be done in-person at the Parks, Recreation & Public Lands Department, weekdays, 8AM – 5PM.
Please Note: There is a 4 hour minimum rental required.

| | | |
| --- | --- | --- |
| Old Council Hall Rates | Resident | Nonresident |
| Hourly | $40 | $50 |
| | | |
In addition to the rental rates:
All rentals have a $200.00 security deposit due at time of signing contract.
Full rental fee will also be paid at time of signing contract.  All activities, set-up, take down, deliveries & clean-up must be performed within your rental period.
IF serving alcohol, additional charges are incurred by renter and again these payments are due at time of signing contract:
Must pay a $35.00 alcohol permit.
Security deposit increases to $500.00.
Renter must hire an off-duty police officer for each 200 guests attending. The renter schedules the police officer 4 – 6 weeks in advance to rental date.  The officer is paid in cash at the beginning of the rental.  The fee is $35.00 per hour. The police officer is required to be at the function for the entire rental and is the last person to leave the facility.